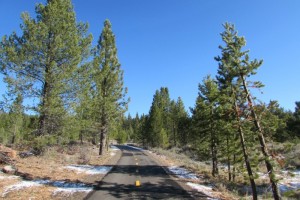 If you have not already, you need to jump on your bike or put on your walking shoes and check out the new beautiful 1.7 mile South Lake Tahoe bike path that opened in November. This bike trail runs through the forest on the west side of Lake Tahoe Boulevard between Sawmill Pond and South Tahoe High School. The county hopes to have the trail completely finished to connect to the Highway 50 bike trail by the end of summer.
        This is such exciting news for the South Lake Tahoe community as once the bike trail is completed you will be able to get to go from Meyers community to South Lake Tahoe all on paved bike trails while passing by all the beauty that South Lake Tahoe has to offer. You will go over rivers, pass by golf courses, ride through meadows & forest, and pass by a children's fishing hole that is called Sawmill Pond, all surrounded by the majestic mountain ranges. Once you get into the Y corridor you can choose to get on a bike trail towards the casinos, or head to all the wonderful beaches off Emerald Bay Rd/ Highway 89.
        To check out the current section that is completed, you can ride your bike to the Lake Tahoe Blvd & Viking Rd interception to get to the starting point until the trails connect through.  Or park at Sawmill pond on the one end or off D street on the other end to be able to start directly on this section of the trail.
        If you are looking for something new and fun to do we recommend you go for a lovely bike ride on one of the amazing bike paths offered in the South Lake Tahoe community. We know you will love it. We hope to see you on the bike trail!