When the snow starts to fall in Tahoe, those of us with kiddos have to modify the entertainment factor, so we thought we'd share some of our favorite winter time activities for those with little ones! Whether you want to play in the snow and enjoy the outdoors or stay warm inside we have provided you a wonderful well rounded list of activities to do with the kids this winter season.
One of the locals favorite outdoor activities to do with their children is packing a lunch and playing at Adventure Mountain on top of Echo Summit for the day.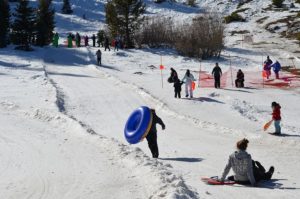 This is all around fun for the whole family. Adventure mountain has wonderful sledding hills for all ages & adults too. You can not help but have a smile on your face while flying down the hill & taking in the beautiful outdoor setting. There is a lodge to buy food, hot cocoa, and buy or rent sleds too.  Be forewarned it can be quite hectic on the weekends so show up early to get good parking, or try to go on a midweek day!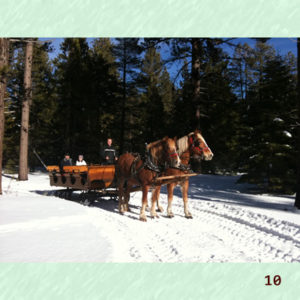 Feel like doing something different? We would recommend packing up the family and taking a sleigh ride at Camp Richardson Corral. This a magical and peaceful ride through the forest with 2 beautiful horses and very friendly staff. Make sure to make reservations to be sure there is a sled ready for you when you arrive. This is a memorable experience had by all. Be sure to pack your hot cocoa and dress warm for the ride and definitely don't forget your camera!
For those of you who do not like to brave the cold and snow then a huge favorite for the kids is bowling at Tahoe Bowl. The bowling alley offers food, sports bar, 17 bowing lanes, arcade, and a wonderful atmosphere for the whole family. Day or night this is always a fun place to bring the kiddos to get out of the cold.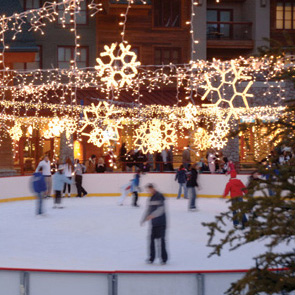 Another great outdoor winter activity is ice skating outdoors at the Heavenly Village near Stateline. Day or night the outdoor Ice Skating area is open. They offer music, lights, and ice skate rentals. What a great way to take in the Winter season.
Want to play inside and still enjoy the cooler temperatures then take your family to the Ice Arena at in the center of town. Tahoe Sports and Entertainment Ice Arena is a fun place to practice your ice skating or ice hockey technique and having a blast with the family. Not interested in skating? Well then maybe catch a hockey game or a figure skating competition. Take a look at the event calendar for special events.
Also check the El Dorado County South Lake Tahoe library site to check on their current schedule of activities for kids.  They change it up, but they do have story time and play time for the kids there as well, for those windy days.
Then of course at the top of the Heavenly gondola they have a sledding hill for those who aren't interested in putting their kids on skis just quite yet!  The ride up in the gondola is always a big hit as well!  Sierra at Tahoe ski resort and Heavenly both have great kids programs as well where you can drop the kiddos off for the day and hit the slopes yourself. Or if you have older kids, give a go at cross-country skiing or snowshoeing!  Rentals available at almost any shop in town or if you don't want to transport them in your vehicle, just rent directly at Camp Richardson and enjoy their flat groomed trails or head out to Hope Valley Rental center right at the junction of Highway 89/88 and rent there!
We look forward to seeing you and your family out and about this winter season. We can't wait to see the first snowflakes start falling. Winter is just around the corner.
Save