Spring time is in the air here in town and the South Lake Tahoe real estate market is gently following similar trends to what we have seen in spring time the past few years.   An increase in new listings coming onto the market and buyer activity starting to pick up. The accurately priced homes in the under $500K range have been going into pending status very quickly. For example, we ran some stats for a client at the end of March and found that in the county neighborhoods, 9 homes were in pending under $330,000 and 5 of those went pending in less than 2 weeks (ranging from 2 to 13 days)!   It's a great thing for sellers to see after a somewhat quiet winter with the poor ski conditions and not as many visitors in town.
When we say "gently following" similar trends of past Spring time market conditions, the median sales price is what is causing us to say that.   Buyer activity is definitely picking up, but according to the South Tahoe Association of Realtors statistics, the median sales price in South Lake Tahoe has stayed relativity level since September 2014 with the median sales price fluctuating from $349,000 to $350,000 and still holding there, as of the most recent statistics released for March 2015. Overall the median sales price is up 4.6% from this time last year when the median sales price was $334,500.  It will be interesting to see where this leads the median sales price as inventory typically climbs later in spring and going into summer here at the lake–but buyer activity also typically picks up.
In March 2015 MLS data reported there was 38 solds, 261 listings of those listings 64 were in pending status ( in escrow with a buyer under contract). This was up from month prior with only 32 solds, 205 listings and 53 in pending status. Below is a graph demonstrating the current market median sales price over the past few years.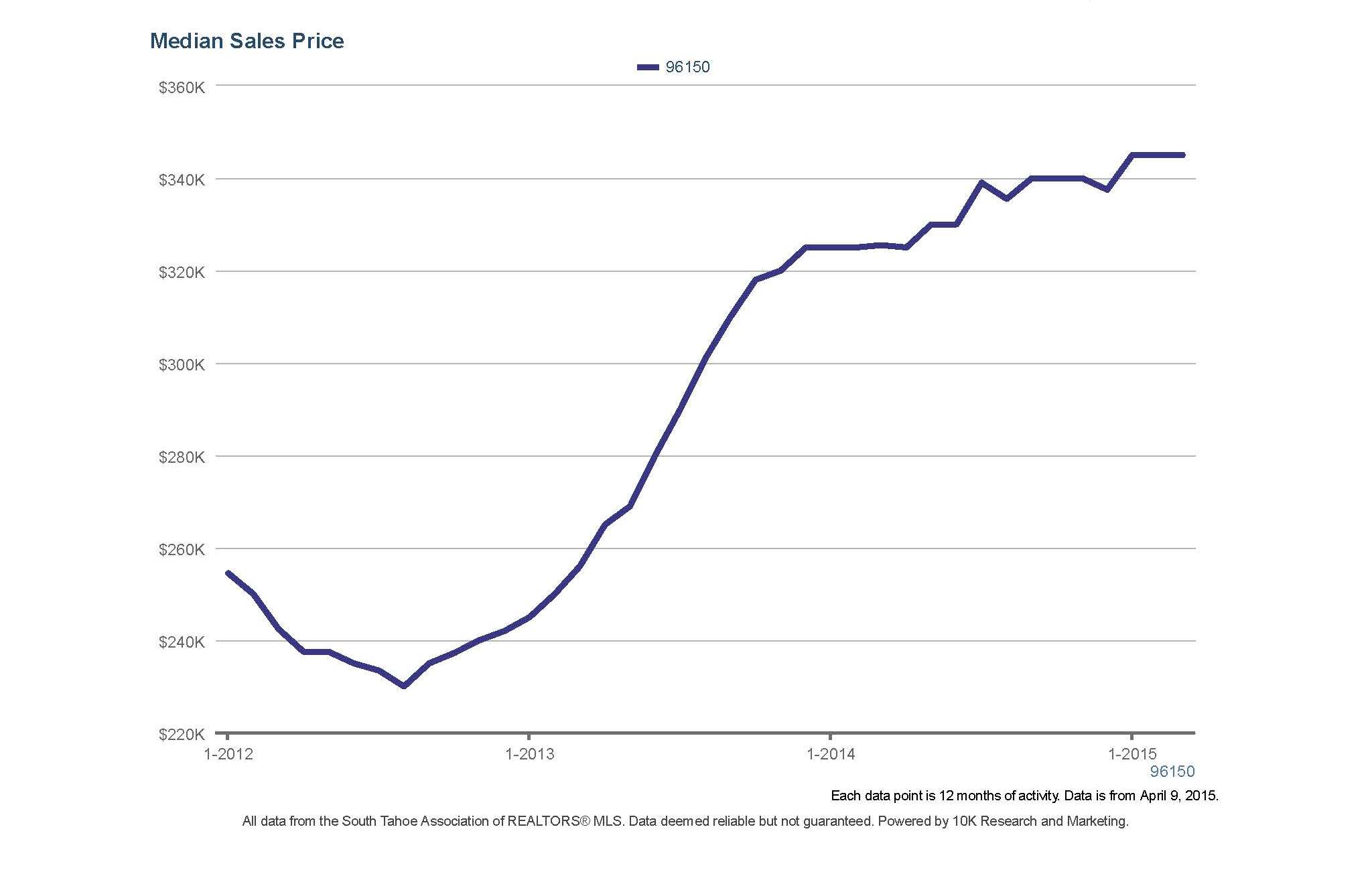 We look forward to seeing what this Summer's market has in store of real estate in South Lake Tahoe, but typically we will see the number of new listings increase and buyer activity rev up as the beautiful Tahoe weather brings tourist to the Lake Tahoe community. Look for our Summer newsletter with new market stats coming out early Summer!
Do you want statistics for a specific neighborhood or statistics in relationship to your own home or a home you are interested in purchasing? Don't hesitate to ask and we can provide a detailed report for your own individual real estate needs.