My how summer time flies up here at the Lake!  Fall is definitely in the air, and it is a great season to enjoy Lake Tahoe. The lakes have warmed up to swim in, the trails are less crowded and the Aspens begin to change colors, and the anticipation of winter begins to build.  Here's hoping this winter is a good one!
In terms of the South Lake Tahoe real estate market, things are also still maintaining well up here at the lake. Buyer activity is still going strong, though many buyers with a wary eye on the vacation rental ordinance changes in the city limits. (If you are a buyer and aren't familiar with the ordinance, we will be happy to inform you about the recent changes and what areas it affects).  The median sales price for South Lake Tahoe has held level the last three months since our last report. We thought it would be interesting to share the last couple years of stats on the median sales price for condos and single family homes.
Below you can see the stats for the past couple of years for Single Family Homes in South Lake Tahoe: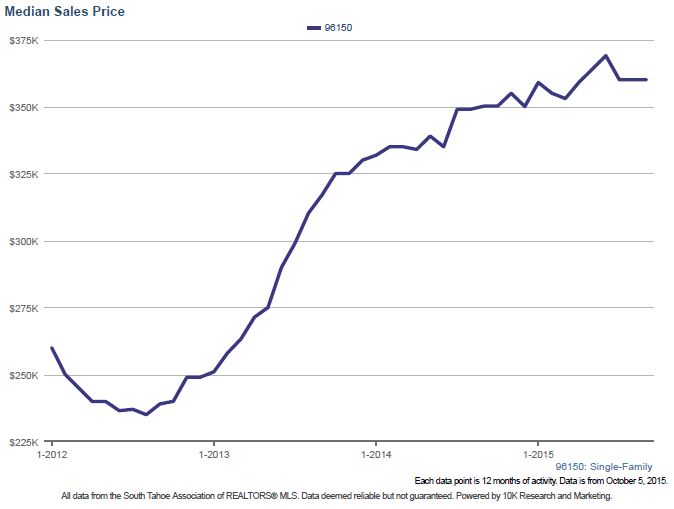 Below you can see the stats for the condos in South Lake Tahoe: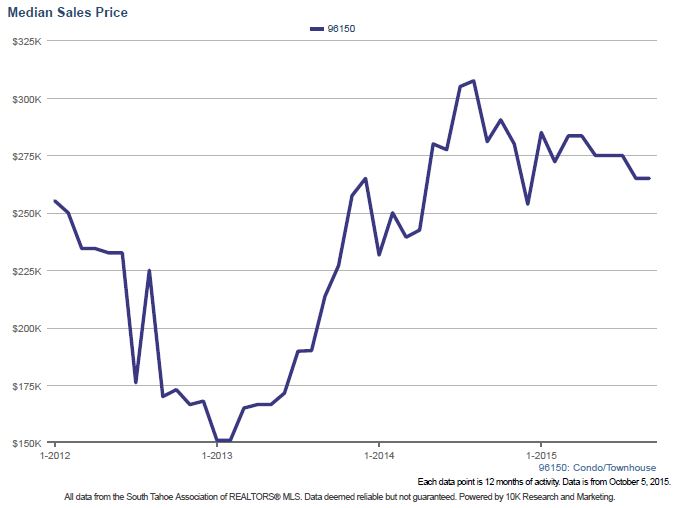 What's interesting, and we didn't notice it until breaking out the stats, is that while the median sales price for all of South Lake Tahoe has held level the last few months, and in general has been an upward trend the past few years, the condos have been a little bit more varied.  We actually peaked on condo prices and have adjusted downward.  This can also be skewed by a couple very large sales as there are fewer condo sales monthly in South Lake Tahoe, but it is interesting to see and we will keep an eye on in coming months.
In January we will run a full year summary and get more into the statistics. In the meanwhile, enjoy this beautiful fall weather and cross your fingers and toes for a big winter!  The real estate market could also use a good winter to remind buyers in the fact that Tahoe has good winters.
Do you want statistics for a specific neighborhood or statistics in relationship to your own home or a home you are interested in purchasing? Don't hesitate to ask and we can provide a detailed report for your own individual real estate needs.