South Lake Tahoe Homes For Sale – May 3, 2016 Update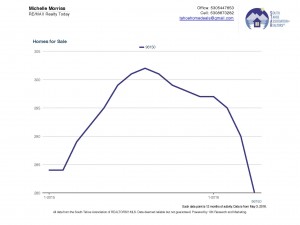 As expected, with the heating up of temperatures and the closing of the ski resorts, we are starting to see more Single family homes hit the market in the South Lake Tahoe area, but it is still low inventory! Take a look at the graph to the left to get a feel for what the last year has looked like (note: the graph includes all property types).  As you can see we are at a low, despite the slight uptick in number of listings coming on the market.  Here are a couple additional highlights and a couple properties to consider:
Single Family Homes overall market update:  There are currently 249 South Lake Tahoe homes for sale, including the county neighborhoods.  Of those 249, 102 are in pending. So a slight uptick in number of listings available but also an uptick in pending sales so it is still a very hot market.
The under $300,000 range of South Lake Tahoe homes for sale is still very competitive. At our last blog post on the market update a few weeks ago, there were 12 available homes and 16 pending homes.  That has actually decreased with 13 available homes and 13 with buyers under contract in that price range.  We have a feeling this price range is going to continue to stay very competitive throughout the summer, especially if this low of inventory remains.
An under $300,000 South Lake Tahoe home for sale highlight: 1930 Kickapoo is in the highly sought after North Upper Truckee neighborhood.  On a huge lot with a lot of Government owned land around it adding to the privacy of the location, it has great potential and for those who like the space, it's also on a 10,000 sq. ft lot.  Click here to view.
New to the market successful vacation rental, 2005 construction and 2672 sq ft for $668,888:  While we have not got to see it yet as it just came on the market, we are curious about this one!  We love the location as it's in the county which makes it an easier process currently for vacation rental permits, and it's already an established vacation rental.  The location for those who don't know it is great because there is a lot of forest service land surrounding the neighborhood and the mountain biking, x-country skiing and snowshoeing or just going for an evening stroll down to the Upper Truckee River, is one of the best tings about the area.   Click here to view.
If you are looking for something very specific, please do not hesitate to reach out to us and we are happy to send you a list of homes we feel may meet your specific needs.  For our clients we are also happy to go and preview homes before they drive up to Tahoe to take a look and take additional pictures if they are out of area.  This can save a lot of time and energy for you, if we are in touch with what your specific needs are.  If that is something that interests you please do not hesitate to reach out to us and discuss your individual needs. We are here to help!