As the vegetation starts to come back to life and the weather is heating up we know we are finally entering summer in Lake Tahoe! After that wild winter of record breaking snowfall the lake is looking more beautiful & higher then we have seen in years almost reaching max capacity. If you are a sun lover and beach enthusiast I would suggest getting to the beaches early in the day as beach real estate will be hard to come by, with the smaller beaches since the lake is much higher!!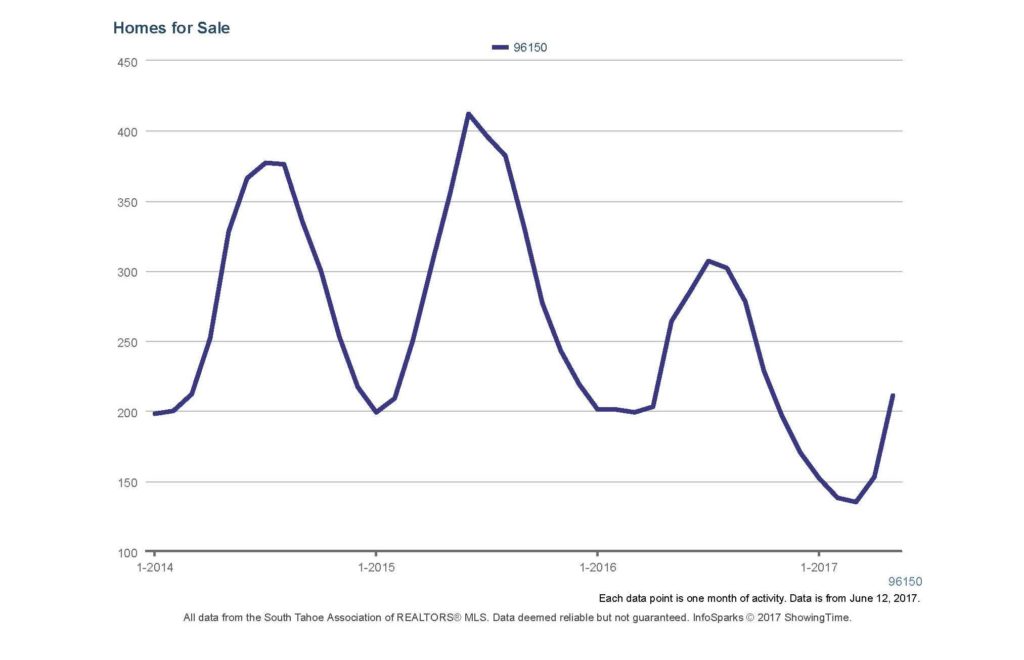 As for the inventory in South Lake Tahoe we are still experiencing low inventory though we are starting to see inventory pick up slightly each week as we get more into the summer months. We look forward to seeing what this Summer's market has in store for real estate in South Lake Tahoe, but typically we will see the number of new listings increase weekly and buyer activity rev up as the beautiful Tahoe weather brings tourist to the Lake Tahoe community. On the right is a graph showing year after year since 2014 the inventory of home for sale in the South Lake Tahoe area.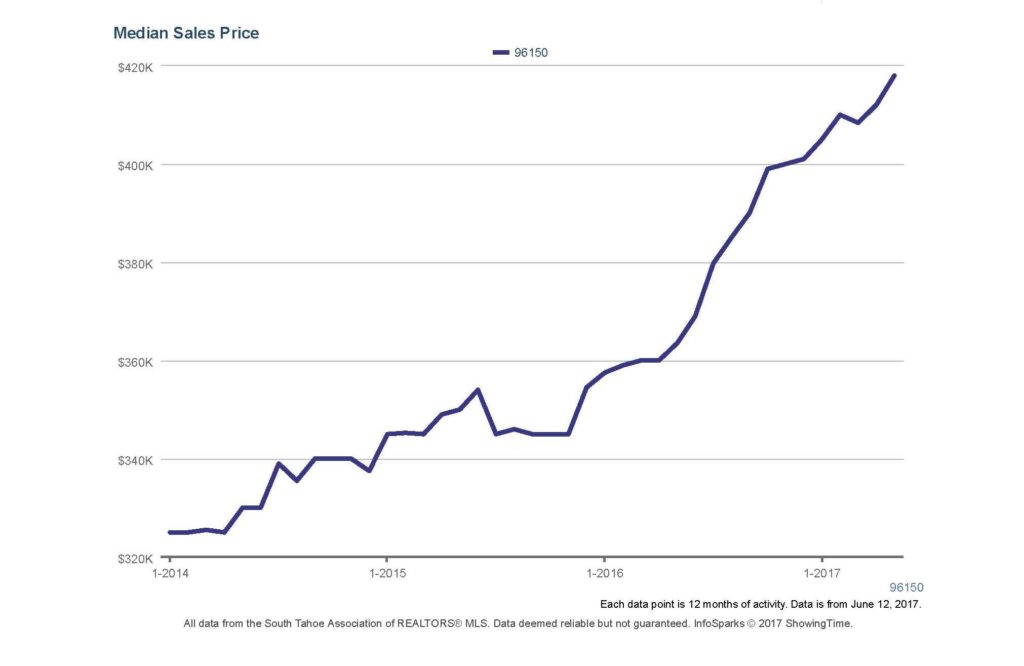 The median sales price in South Lake Tahoe has stayed relatively level from December 2016 -April 2017 fluctuating between $420,000-$425,000. By months end in May 2017 the median sales price spiked to $434,000. Graph shown to the left to shows you year after year since 2014 the increase in median sales price in South Lake Tahoe.
Summer typically in the past is our busiest time of year for Real Estate at the lake with the highest amount of inventory of the year and most buyer activity. The most important thing you can do is make sure you are set up on our auto updates so you don't miss a great property. Also, it is best that you are pre-approved if getting financing so you don't lose time in getting your offer submitted, or lose out in a multiple offer situation by not being pre-approved by a lender. Please do not hesitate to ask us for a list of lenders that we feel do a good job for you to interview.
These statistics below were ran June 6, 2017, and including all homes in City limits & County neighborhoods:
Single Family Homes Overall Market: There are currently 178 active South Lake Tahoe homes on the market for sale & 85 homes currently in pending status with a buyer under contract.
Under $400,000: There are currently 42 active homes available in this price range and 28 homes are in pending status. Surprisingly though there are 5 active homes under $300,000 in the city limits that are not in pending status. They are all under 1000sqft but still it is incredible you can buy a piece of Tahoe for under 300K!!
Do you want statistics for a specific neighborhood or statistics in relationship to your own home or a home you are interested in purchasing? Don't hesitate to ask and we can provide a detailed report for your own individual real estate needs.
Save
Save
Save