South Lake Tahoe homes for sale market update – Fall 2016:
As the leaves start to fall off the aspen trees, and the morning air is brisk, we can't help but realize that summer is now over and winter is quickly approaching!  As is typical of going into the winter months, our inventory of available South Lake Tahoe homes for sale is dropping off as well.   Take a look at this below graph from the past year for 96150 zip code.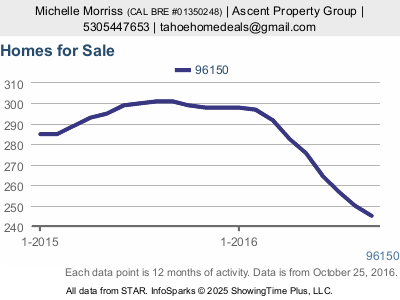 As you can see with less than 250 homes on the market in the 96150 zip code, buyers are having a tough time finding their ideal property, especially in the under $350K range.
Which means if you are a seller, it is a great time to get your home on the market as there is less competition out there and buyers anxious to get into their dream property before the ski season starts!
We have seen a 11.3% increase in the market from this time last year as the median sales price in the 96150 zip code was $359,500 in September of 2015 to $400,000 in September of 2016. As you can see we have a had a nice increase in Lake Tahoe Market. With the interest rates still low it is a great time to buy and sell with the lack of competition.
Here is a graph of the upward trend of the median sales price over the past few years in the 96150 zip:
As of the writing of this article, there are is currently only 1 active single family home on the market priced under $250,000 and 10 homes active on the market priced between $250,000-$299,000.
We hope these stats help you and as always don't hesitate to ask if you have any questions or if you'd like a detailed report tailored to your own individual real estate needs or a specific neighborhood!  Enjoy the fall weather and do your snow dances for a big winter this year!