As always Tahoe beaches are a must see when you are in town and a wonderful way to cool off. If you are sun lover and beach enthusiast I would suggest getting to the beaches early in the day as beach real estate will be hard to come by, with the smaller beaches since the lake is much higher you will want to throw down you towel or pop up your day tent to reserve your space before the crowds!! Parking is limited at most beaches so best if you can ride your bike in or get there early to insure a space and to avoid the long parking lines. Two of our favorite beaches are: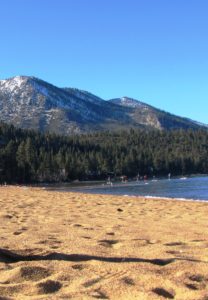 Baldwin Beach– Off Emerald bay road a few miles from Camp Richardson resort heading towards Emerald Bay. This is by far a locals favorite on the California side of the Lake. The sand on the beach is so clean & soft and not rocky or covered in pine needles like other Tahoe beaches. They also offer a few BBQ & picnic tables on the beach with running water bathrooms. You have a meadow on the left side and the forest behind you with absolutely breath taking mountain views. Ski beach is connected to this beach so you will see many boats tied up on the left hand side of the beach and you can watch wake boards or tubers having fun out on the lake in front of you. Paddle boarders also love this beach as it is a short paddle to the majestic Emerald Bay entrance. If you have not visited this beach add it to your Tahoe to do list as a must see!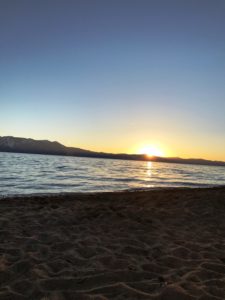 Nevada Beach – Is another local favorite beach on the Nevada side below Round Hill. This beach also a very popular campground attached that is booked out 6 months in advance in the Spring to Fall months. This beach is also walking distance to the grocery store & restaurants if you run out of food and drinks while enjoying a day of fun in the sun. Like Baldwin this beach has very soft sand and there are also picnic tables scattered about. You will not be disappointed, but be sure to get there early as parking is minimal.
As always we look forward to seeing you out and about around town this Summer season and maybe we will run into you at one of our new favorite places. I hope you enjoy the list of new places to explore in town as much as we do. Have a safe and fun summer!
Save
Save
Save