Off the Beaten Path – Forest Service Cabins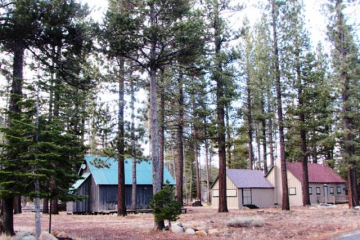 Looking for an affordable way to enjoy the beauty of the Lake Tahoe area? Do you prefer to avoid the crowds and relax in a cabin off the beaten path? You may want to consider a forest service cabin!
These cabins are scattered in areas around the Lake and along Highway 50 and Highway 89. Many people love these cabins as they come at a fraction of the cost of a similar home in South Lake Tahoe city limits and they provide that feel of being in a "cabin in the woods". Some are only accessible by snowmobile or snowshoes or x-country skis during the winter.
Some of our favorite forest service cabin communities?
Echo Lake: Some of the cabins around Echo Lake are forest service cabins. This little community is amazing and is hike in OR boat in to your cabin only. They are rare to come on the market because this lake is just a gem in the Sierras. Located at the gateway to Desolation wilderness and some of the most beautiful Alpine lakes you have ever seen, it is a great place to spend your summer days. You will see kids kayaking across to their friends cabins to hang out, and power boats are allowed on the lake so you can wakeboard or ski literally right out your back door.
Spring Creek Tract: This community is located out Highway 89 on the way to Emerald Bay. It's in a great location because it is close enough to town to make it easy to go out to dinner or pick up groceries, BUT it is located at the base of Mt. Tallac and nearby to so many great hiking trails and Fallen Leaf Lake. The bike trail starts nearby there and you can hop on a bike and head straight to some of our favorite beaches like Baldwin Beach, Kiva Beach, Camp Richardson or Pope Beach. You will see forest service cabins come up here much more frequently than Echo Lake, and is our favorite "close to town" forest service community.
Christmas Valley: At the end of Christmas Valley heading out Highway 89 from Meyers towards Hope Valley, is a little group of Forest Service cabins. It's very private back there, and is beautiful in the summer time with a great little hike following the river up stream with gorgeous waterfalls and during the fall the aspens are just spectacular back in this area.
There are many other little groupings of Forest service cabins around the Lake so if you are interested in learning more about them, please do not hesitate to ask. The one caveat? Obtaining financing unless it is seller financing is not usually an option. These properties are located on forest service land so therefore the land is not owned and it is a "leasehold" from the Forest Service. If you are interested in learning more about how the Forest service handles these cabins, click here to link directly to the Forest Service information about it.
Photo credit for Fall Aspen Shot photo by Lake Tahoe Visitors Authority
Photo credit for Skiing Shot photo by Lauren Lindley
Photo credit for Aspens photo by Mark E Loper