Lakefront Living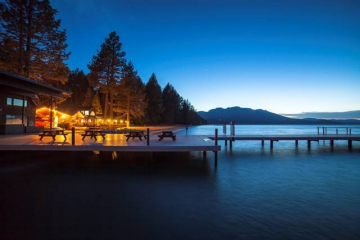 The possibilities for lakefront living on Lake Tahoe are endless. There are so many great little communities tucked in around the Lake, that it ultimately comes down to what is most important to you in the community you live in, what type of construction you prefer and if you want more HOA amenities and oversight or if you prefer to not live in a larger HOA.
The Nevada side of the Lake offers the most as far as communities that are lakefront and many people choose this side of the Lake because of the tax benefits of living and working in Nevada. Under our neighborhood descriptions you can read up more on many of these individual communities, one of the most popular being Glenbrook due to the great HOA and golf course amenities. Some people determine they cannot afford to actually OWN on the water, but living in one of the communities, such as Glenbrook, offer the opportunity to have a private beach, pier and buoy out on the water still. There are too many small niche Lakefront communities to list them all here but if you are interested in learning more just reach out to us with your own personal needs and we are happy to point you in the direction of some other communities along the East shore to consider.
On the California side of the Lake from Stateline, NV to Emerald Bay there are five waterfront communities worth checking out and often times offer a much more affordable price point than the Nevada side and each have their own unique benefits. Starting from Emerald Bay, there is Cascade Properties on the West shore. Then a little off the beaten path but absolutely STUNNING scenery are the properties at Fallen Leaf Lake. Movies such as "The Bodyguard" and "City of Angels" have featured scenes at this lake due to it's picturesque and tranquil setting.
Moving on towards town is the small Lakefront community of Jameson Beach which is adjacent to Camp Richardson. A stark contrast to Fallen Leaf Lake as it is right next door to the popular Beacon restaurant and Camp Richardson pier, but many people just love the activity, the live music on the weekends and lively setting of being near Camp Rich. The community of Jameson Beach is actually privately accessed through a gate so you don't have the crowds in your actual neighborhood, so many who want to be near the action but still enjoy a private cabin setting do appreciate this community more so than the tranquil setting of Cascade Properties and Fallen Leaf Lake.
Next is the Tahoe Keys, a unique community where many of the homes have either a boat dock on a channel that leads out to Lake Tahoe, or a select number of properties on Beach Drive are actually Lakefront with private beach out in front of the home. Click here to read an entire neighborhood profile we wrote up on the Tahoe Keys, as it is a very popular community due to it being the most affordable way in all of Lake Tahoe to have a boat dock in your backyard with direct access to Lake Tahoe.
Photo credit for Balloon on Water photo by Aimee Butier
Photo credit for Camp Rich photo by Mark E Loper