Fall is the perfect time to get out onto the different hiking and walking trails here in Tahoe because the weather is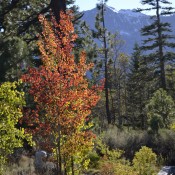 still beautiful and it's a lot less crowded.  There are so many different trails offering beautiful views of either the lake, the mountains, the woods, or even all three!  One of our favorite trails to walk here is the Taylor Creek Walk out past Camp Richardson.  During the fall, usually starting sometime in early October, the Kokanee salmon are migrating so the creek is full of the red and green fish – if you take the walk early enough in the morning you may even catch a glimpse of a bear!
Starting at the Taylor Creek visitor center, if you take the Rainbow trail, the walk lets you truly enjoy the beauty of Tahoe during the fall.  One of our favorite spots on the walk is the cluster of aspens which boast vibrant yellow and orange colors as the leaves change.  Along the trail there are also beautiful snapshots of the meadow, Taylor Creek, the forest, and the mountains.
Want to know a little bit more about what you are looking at or make it an educational trip for the kids?  The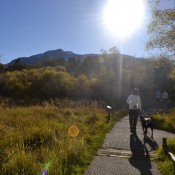 Taylor Creek Visitor center has also set up information plaques on the trail which tell you about the plants and wildlife in the area.   Near the end of the walk is the Stream Profile Chamber with an underwater tank where you can see the fish as if looking through a fish tank and inside the building there's more information on the life of the salmon.    The Stream Profile Chamber is only open to 4 PM the days we've been out there so make sure you don't go out too late if you want to view this.
Upon returning to the visitor center another trail will actually take you down to the lake.  The whole area is dog friendly on a leash and then you can reward your dog with throwing the ball in the Lake when you get down to the water if you have a water dog like I do!
We consid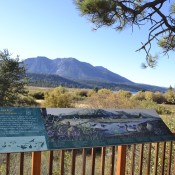 er this one of our favorite fall things because there are numerous trails from the Taylor Creek Visitor Center which let you relish in the beautiful autumn weather of Lake Tahoe.  Also, it is accessible for most of the public.  The trail down through the Kokanee salmon in Taylor Creak and the stream profile are all paved so it's wheelchair accessible, though there is a slight hill at the start and end of the trail.
The trail down to the beach is dirt, but if you can make it down that way it is just a great little walk with vistas out over the meadow where Eagles and other wildlife can be spotted with beautiful Mount Tallac and the Sierra Nevada range towering over the meadow.