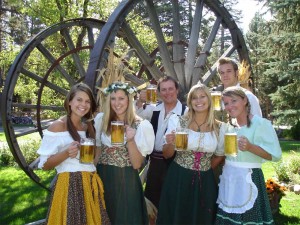 One of our favorite things to do in fall here in South Lake Tahoe is go to Camp Richardson's Oktoberfest.  This annual event is perfect for the whole family and takes place the first weekend in October.  For 21 years now Oktoberfest has been held at the Camp Richardson resort and it really feels like the first mark of fall.  Here in Tahoe we get very lucky with the summers usually extending into late September and early October, yet somehow every year on Oktoberfest weekend the weather turns a bit colder and the leaves suddenly start to pop out in yellows and oranges and reds.  But the fall weather just adds to the experience of Oktoberfest – crisp fresh air, warm German bratwursts and plenty of beer – it's an Oktoberfest dream!  (Plus after Oktoberfest the weather usually gets a little warmer again for another couple weeks, letting us further enjoy fall in Tahoe.)
Oktoberfest has a beer and wine garden where some of California's breweries feature their German beers that they've brewed.  Two of San Diego's breweries – Saint Archer Brewery and Ballast Point Brewing Company – will feature beers here in Tahoe this year.  Along with beer and wine you'll usually find some specialty drinks including Goldschlager and Rumplemintz to help keep you warm during the festival.  For food Oktoberfest offers plenty of sausages, German potato salad, spaetzle, and a ton of desserts as well.  And on Sunday this year they're having a sausage eating contest for any who think they can handle it!
There's also live music by the Gruber Family Band which really adds to the ambiance.  Marcia Sarosik Dancers usually perform a few polkas and other dance routines as well.  Other activities at Oktoberfest include a pumpkin patch, and owner and their dog costume contest, face painting, a climbing wall, craft booths, bungee platform, stein holding contest and more!  
Yes, Oktoberfest has it all and every year seems to get better and better.  10-5 both Saturday and Sunday, the event is perfect for strolling around and enjoying time with friends and family.  One fun thing to do along with Oktoberfest this weekend, just down the street at the Taylor Creek Visitor Center is the Fall Fish Fest which also has fun activities and has one of the most beautiful walks in Tahoe.  And another way we like to finish our day at Oktoberfest is by walking down to The Beacon restaurant and grab a rum runner.  But whether you go for an hour or the whole day, Oktoberfest is a locals favorite and something you definitely need to check out!
Visit www.camprichardson.com for more information