Summer time is finally here as the weather is warming up and town is starting to pick up! As typical trends follow from past summers in the South Lake Tahoe real estate market,  we are starting to see an increase in inventory come onto the market each week and buyer activity is picking up as well. If homes are priced right they are going into pending status fairly quickly.
After coming out of a quiet fall & winter season with the median sales price staying relatively level for 7 consecutive months it is great to finally see an increase in the median sales price. From September 2014 to March 2015 the median sales price varied between $349,000-350,000. In April 2015 we finally saw an increase in the median sales price to $355,000. Then again in May 2015 there was an increase to $364,000. That is a total of 4% increase from March to May.  In June 2014 the median sales price was $335,000 which means the market has increased a total of 8.7% in the past year.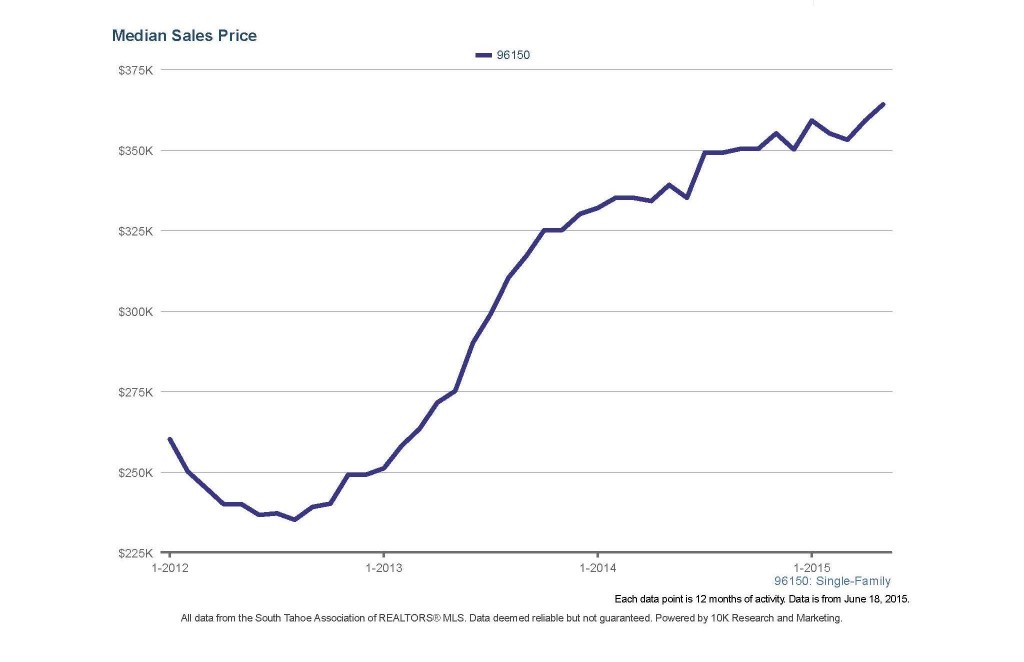 We look forward to seeing what this summer has in store for the real estate market in South Lake Tahoe, but based on previous years we expect to see the number of new listings increase and buyer activity rev up – especially as the beautiful Tahoe weather brings tourists to the community who end up loving this place as much as we do!
Do you want statistics for a specific neighborhood or statistics in relationship to your own home or a home you are interested in purchasing? Don't hesitate to ask and we can provide a detailed report for your own individual real estate needs.